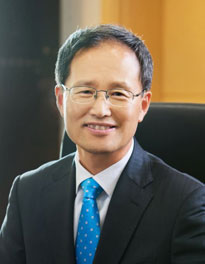 We will go with you on the fast, safe and pleasant railways
Welcome to Korea National Railway website!
Korea National Railway is a fully state-owned organization set up in January 2004 to manage national rail infrastructures on behalf of the government. Our aims are to build a well-structured national rail network and to see to efficient management of rail infrastructures and assets.
Korea National Railway has been working to bring people and regions closer together through continuous investments in rail infrastructures and technology innovations. We have been doing this from the start with the opening of Gyeongbu High Speed Rail in 2004 and followed in subsequent years by Honam HSR, Suseo HSR, and speed enhancements of Wonju-Gangneung and Wonju-Jecheon sections.
Railways of Korea have grown, both in quantity and quality, over the years together with the people. However, mitigation of traffic congestions in hub regions, balanced national territorial development, digitalization of infrastructures, and environment & climate issues remain as tasks to be dealt with in the rail sector.
In line with the internal and external expectations, we promise to effect changes and innovations to drive economic and social development in the 21st century. In particular, we will build rail transport system that is eco-friendly and low carbon to open wide the door to sustainable future. In addition, we will implement national rail network plan that prepares for unification on Korean Peninsula in a timely manner thus laying the groundwork for a rail transport passageway that links the railways of Korea to the global rail network.
Always keeping in mind that Korea National Railway exists to serve the people, we will realize social values by improving customer satisfaction and business transparency to establish ourselves as a trusted and reliable organization.
Thank you for visiting our website!
Kim Hanyoung
Chairman & CEO